Women at the Quick
---
More women are coming to the Quick! In the next few months there will be powerful women at the Quick to share their life experiences and passions! If you want to be inspired, check it out!
Samantha Power
"The State of the World: A Global View" - October 2nd at 8:00pm
The youngest-ever U.S. Ambassador to the United Nations, Samantha Power has been a leading voice internationally for principled American engagement in the world. Called by Forbes, "a powerful crusader for U.S foreign policy as well as human rights and democracy," Ambassador Power has been named one of TIME's "100 Most Influential People" and one of Foreign Policy's "Top 100 Global Thinkers." From 2013 to 2017, Power served as the 28th U.S. Permanent Representative to the United Nations, as well as a member of President Obama's cabinet. In this role, Power became the public face of U.S. opposition to Russian aggression in Ukraine and Syria, negotiated the toughest sanctions in a generation against North Korea, lobbied to secure the release of political prisoners, helped build new international law to cripple ISIL's financial networks, and supported President Obama's pathbreaking actions to end the Ebola crisis.
Ann Hampton Callaway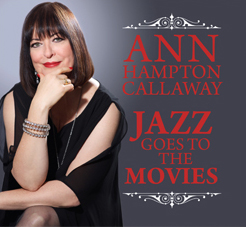 Jazz Goes To The Movies - October 5th at 8:00pm
Ann Hampton Callaway is one of the leading performers of the great American Songbook. Her unique singing style blends jazz and traditional pop, making her a mainstay in concert halls, theaters and jazz clubs as well as in the recording studio, on television, and in film. She is a Platinum Award winning writer whose songs are featured on seven of Barbra Streisand's recent CD's. Callaway's newest album, Jazz Goes to the Movies, is set for release in October 2019. The album fulfills her longtime dream of recording great songs from classic films, including "As Time Goes By" from Casablanca, "The Way You Look Tonight" from Swing Time, "'Swonderful" from An American in Paris (and, originally, Funny Face), and "Blue Skies" from The Jazz Singer. Callaway's live performances showcase her warmth, spontaneous wit and passionate delivery. She is one of America's most gifted improvisers, taking words and phrases from her audiences and creating songs on the spot, whether alone at a piano or with a symphony orchestra. She has performed with top orchestras and big bands in major concert halls in more than 30 countries, collaborating with Wynton Marsalis and the Lincoln Center Jazz Orchestra, The Boston Pops, and more. She has performed for President Bill Clinton in Washington, D.C. and at Mikhail Gorbachev's Youth Peace Summit.
November 4 at 7:00pm
Women on Fire: Stories from the Frontline has a vibrant message to impart to young women today. It's an energizing evening – a well directed and performed mélange of monologues surrounded by excellent dancers, who weave through the taut 80-minute performance, providing wisdom, beauty, and even some comic relief from our current political climate. This benefit evening in support of the Quick will feature actors from Orange is the New Black, The Affair, and more.

Joanna Gleason
Out of the Eclipse – November 8th at 7:00pm
Tony Award-winner Joanna Gleason makes the Connecticut debut of her new show, Out of the Eclipse (straight from her sold-out run at Feinstein's/54 Below). She brings us through a personal dark time and into the light, with a humorous and moving memoir, as she reunites with her arranger and music director, Jeffrey Klitz, and is backed by the Moontones. This is a revival for the spirit! Revered by Broadway audiences for her unforgettable (and award-winning) portrayal of The Baker's Wife in the original company of Into the Woods, fans have adored Joanna in Dirty Rotten Scoundrels, Nick and Nora, and Sons of The Prophet among others, racking up all of the major theatre awards along the way. This is to say nothing of her film and TV work, which includes Boogie Nights, Crimes & Misdemeanors, The Wedding Planner, and a whole host of other projects.
Carrie Goldberg
"Demanding Justice for Victims: From Cyber Crimes to Federal Courts" - November 13th at 8:00pm
In an era in which we live more and more of our lives online, Carrie Goldberg has dedicated her life to helping to create important legal safeguards. When Goldberg personally experienced online harassment, she discovered that police departments had little understanding of this form of harassment, and she couldn't find either lawyers to prosecute the case or judges who understood the impact of such harassment on her personal and professional life. She became first her own advocate and then an advocate for the many women and young girls who have experienced online harassment. In 2014 she founded her own firm, CA Goldberg, PLLC, which helps victims of cybercrimes. As of 2014 she also serves on the board of the Cyber Civil Rights Initiative, which is working to establish anti-revenge porn laws in all 50 states. Goldberg will share the story of how she became first her own advocate and then an advocate for the many women and young girls who have experienced online harassment. As she puts it, her firm's purpose is to stop, "a**holes, psychos, trolls, and pervs," and restore peace to her clients' lives. Goldberg speaks about consent, the spread of online harassment and sextortion, and points to the solutions within reach, including how each of us can protect ourselves and others.
November 21st at 6:00pm
Zimbabwe-born Nora Chipaumire has been challenging and embracing stereotypes of Africa and the black performing body for two decades. Her work fuses the personal and political experience of growing up in Zimbabwe, questioning how status and power are experienced and presented through the body. Her work critiques colonialism and complicated notions of spectatorship and power. The human body for her, and for those born without property, name or class, can be a means of self-invention and self-determination. Chipaumire returns to the Quick after her 2018-19 residency and presentation of #PUNK100%POP*N!&GA as she embarks on her largest project to date – The Queen vs. Nehanda. The new work, a live opera that tells the heroic story of Nehanda, a Zimbabwean spirit of the Shona people that used women as her mediums, will premiere as part of the Quick's season in 2020/21.
Lynsey Addario
"Eyewitness Through My Camera Lens: Worlds in Conflict" - December 9th at 8:00pm
Lynsey Addario has captured audiences with her disarming and compelling photographs and her uncanny ability to personalize even the most remote corners of our world. Vanity Fairpraised her: "she is more than a war photographer" with her look at "subjects' impossible circumstances to show beauty and their humanity." Why would anyone willingly plunge headfirst into the war-torn areas of Afghanistan, Darfur, or Libya? For photojournalist and MacArthur Fellow Lynsey Addario, the short, simple answer is also the title of her memoir: It's What I Do. Despite death threats and kidnappings, she continues photographing pivotal subjects for National Geographic, The New York Times, and TIME. Join us to honor this local legend, raised in Westport and a graduate of Staples High School's Class of 1991. Addario has won countless awards and distinctions including the MacArthur Fellowship, the Pulitzer Prize for Journalism, and an Emmy.