Beer Festivals
---
We've compiled a list of local beer fests in Fairfield County as well as popular destination beer fests. Check back in August for a more detailed list of Fall beer festivals and Oktoberfest happenings!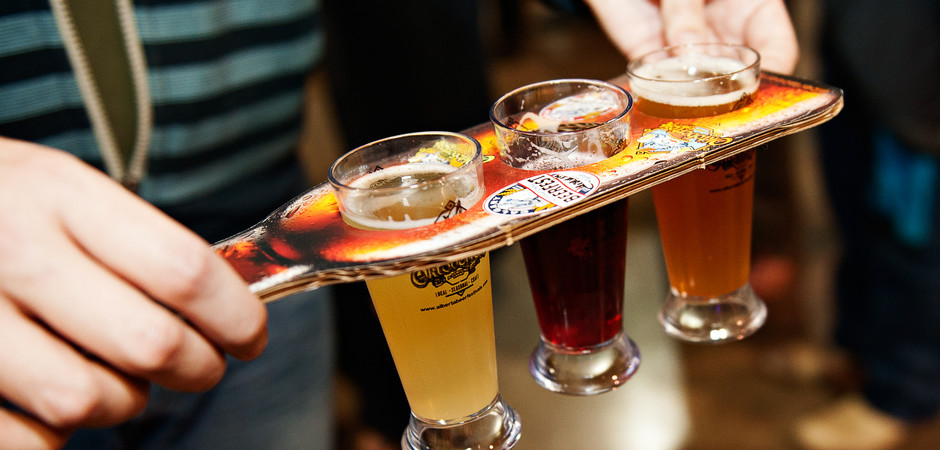 HAPPENING SOON
January 19
Black Hog Barrel Aged Brew Fest
Black Hog Brewing Company's 3rd Annual Barrel Aged Brewfest. Proceeds to benefit Vie for the Kids. Featuring Barrel Aged beer releases from Black Hog, plus Barrel Aged beers from your favorite local and regional breweries! Each guest with a regular ticket will be given a 5oz branded event glass to keep! Enjoy 2oz pours of exclusive barrel aged beers from Black Hog and guest breweries.
January 27
The 18th Annual Connecticut Real Ale Festival
This is an annual tradition you won't want to miss! The Connecticut Real Ale Festival is Connecticut's premier cask ale event. Attendees can expect great, one of a kind ales from Connecticut and beyond, plus great live music. All casks are prepared expressly for the Connecticut Real Ale Fest. This year's event will be held at Brewport in Bridgeport, CT.
February 7
Grab a glass and hop on over to our 6th Annual Febtoberfest as we sample local craft beers, American wines, and spirits. Celebrate with local vendors and a barrel of laughs as we drown those mid-winter blues.
HAPPENED ALREADY
August 25
Two Roads Brewing Company is hosting their 6th annual Shore to the Pour 3-mile Beach race at 1 Dorne Dr in Stratford. Food, beer, & activities will follow at Short Beach. Food will be available for purchase from Firehouse Grill & Popsicles from PopCentric. A portion of the proceeds will be donated to the Connecticut Audubon Society at Stratford Point.
August 25
Now in its second year, downtown New Haven's outdoor craft beer festival is the "grand finale" to the New Haven Craft Beer Week. The event will feature unique and limited offerings from 24 local and regional breweries with over 40 beers tucked away in an intimate urban setting. Multiple sessions will be available between 11:00am - 5:00pm, and there will be unlimited samples with food, music, and games. Festival is located in the Temple Plaza at 160 Temple Street.
September 8
The Brass City Brew Fest in Waterbury, CT is one of the largest in New England and provides an opportunity for beer lovers to sample a daunting variety of craft brews. This year, over 125 breweries and brewpubs will be showcase more than 275 domestic and international brews. The Brew Fest has drawn attendees from more than 90 towns in Connecticut and a dozen states up and down the East Coast.
September 9
Head to the Hogs and Hops Beer Feastival in New Haven and help kick pediatric cancer in the butt! Enjoy amazing food prepared by some of the best chefs/restaurants in CT, scrumptious selections of the finest local pork, mouthwatering sides, & dessert. (Included in ticket price). Delectable beer samples provided by 20 of CT's finest breweries. (Included in VIP & General Entrance ticket price). Everyone gets a Hogs and Hops beer glass & Vie for the Kids commitment coin. (Included in ticket price).
September 15 - 16
Stratford Two Roads Ok2berfest
You're invited to the 4th Annual Two Roads Ok2berfest! Join Two Roads Brewing Company to pay homage to the world's largest Volkfest (beer festival). Authentic German music, German-style beers, food, games and more! No Limit Hefewiezen, Ol' Factory Pilsner, Ok2berfest Marzen, and our Festbier will be pouring all weekend long! On Saturday, Two Roads will be pouring an Altbier, and on sunday, Two Roads will be pouring a Schwarzbier! There will also be 2 music stages and tons of food trucks. 21+ event only.
September 21
Milford Oktoberfest is growing again: Beerfest Friday Night is being added this year! Saturday morning will consist of the 1st Annual Oktoberfest Chug&Run Fun Run along with the Stein holding contest and the Bratwurst eating contest! Live music will be provided Friday and Saturday as well as food trucks and many contests. Don't miss the early bird Happy Hour on Friday from 5pm - 6pm. The Milford Oktoberfest is produced by The Rotary Club of Devon and all profits are channeled back into our community through the various programs sponsored and supported by Devon Rotary.
September 29
Please join us Saturday, September 29th, 2018 at Fowler Field for the 7th annual Harbor Brew Fest. The event will tap off with a limited attendance Brewer's Special from 12pm – 1pm and General Admission will begin at 1pm and will pour until 5pm. Join us for an unforgettable day of beer tasting, a beer tasting glass, great music from talented local bands, delicious food from CT's favorite food trucks and a fun-filled day to enjoy with friends. Brewer's Special will also grant Exclusive Access to the Brewer's Beer Garden where limited release and hard to find beers will be served for tasting.
October 6
On October 6th, Munich makes a return visit to the Rowayton Community Center for the Sixth Annual Oktoberfest Fundraiser. Grab your lederhosen and press your dirndl, and head to Rowayton for a festive evening of German food, music and bier. The event kicks off with the ceremonial tapping of the kegs, then German fare such as bratwurst, roasted chicken, a roasted pig, hashed potatoes, and thick pretzels. Ice cold Spaten will be served in custom RCA steins with crisp Spätburgunder, buttery Chardonnay and sparkling soda available as alternatives.
October 13
New to downtown Westport, Westoberfest will feature a wide array of regional breweries, the Westport Library Lit Fest, air-cooled cars, delicious food from local restaurants, live entertainment, and fun fall family activities, all on the sidewalks of downtown.
November 17
College Street Music Hall presents the Elm City Brew Festival, bringing together nearly 60 of these talented artisans on November 17th to showcase their talents. Craft beer aficionados will be able to sample many of the nearly 225 brews showcased, while discussing beer with the brewers and reps. Popular, casual food offerings will be available.
Let us know if you have a favorite beer festival on Instagram or Facebook at @ourtowncrier!
Reviews
Kate
Redding, CT
Great article
Shore 2 The Pour is one of my favorite summer events! Can't wait to see what you list for Fall beer festivals.
July 2018
Did you find this review helpful?
0
0